RED CORN FRY BREAD MIX
View Images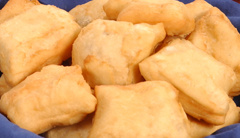 Price: $2.50
Prod. Code: inv
1- 8 oz. bag of Fry Bread mix.
Experience the best Native American Fry Bread you have ever flopped your lips over!
In 1932 Waltena C. Myers married Raymond W. Red Corn Jr. after a whirlwind 3-week courtship in the heart of Osage Country, Pawhuska, Oklahoma. After their marriage, Mary Mcfall, a full-blood Osage woman, took Waltena under her wing and began to instruct her in the art of Osage feast cooking. Aunt Mary taught Waltena well, and a long and enduring friendship was born.
Aunt Mary's method of making fry bread involved a few more ingredients and a little more care, but all you have to do is just add water to our easy-to-use mix and know our 'secrets', and you'll be seeing smiles around your feast table.