Christmas Greetings From Okie Gnomies
Christmas Greetings From Okie Gnomies
View Images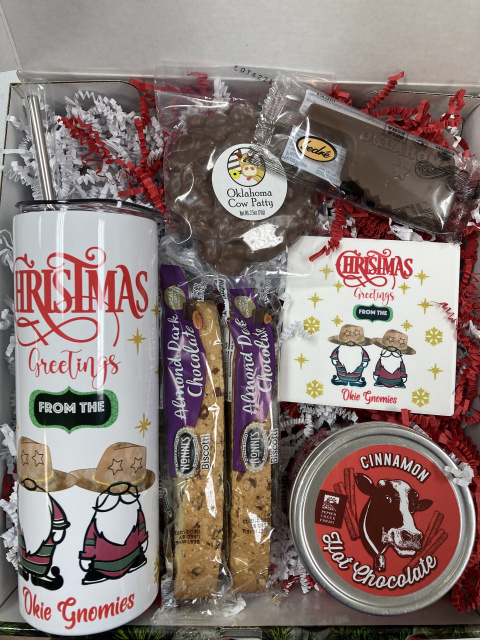 Price: $74.95
Availability: in stock
Prod. Code: CH9
Click on the picture to see what's on the inside. This beautiful high gloss decorative box is filled with a tall skinny 20oz tumbler and matching coaster. The tumbler and the coaster are both printed here at Expressly GIfts. The tumbler may be used with either hot or cold drinks. Included are a metal straw and a rubber tumbler bottom. The yummy hot cocoa mix makes a nice addition to the skinny tumbler. Your gift will include an Oklahoma chocolate bar, two cookies, a hot cocoa mix, and their very own cow paddy.
The goodies are made in Oklahoma.
Tied with a ribbon with gnomes of course!
The Oklahoma-shaped chocolate bar is sold out. Chewy Walnut Pecan Praline will be substituted.
Limited quantities.